---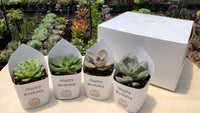 Gift ready for local delivery by Doordash. Please order at:
Evergreen Farm Doordash
https://www.doordash.com/store/evergreen-farm-san-jose-2496216/
Gift ready, 4 succulents in 2" planters with beautiful wrappers. The wrappers are made from beautiful white finish premium material. The front lettering shows "Happy Birthday" above a cute birthday cake with candles. Come ready in a nice glossy white gift box. Hand selected from over 200 varieties, succulents' varieties may vary from pictures. Guarantee a fantastic assortment, fresh, and healthy.